lilidelac
lilidelac jewelry are an ode to femininity: they are designed to underline women's sensitivity, finesse and personality.
Our inspiration is everywhere where we feel grace and elegance : in the perfect shapes of sea shells, in the discrete details of wild flowers, in the refinement of old ironwork, in the evanescence of a light cloud...
Each piece is handmade in our Manhattan studio.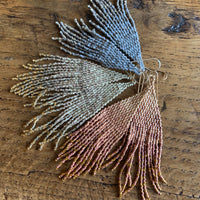 happy earrings
designed and handmade during the confinement when the studio was closed, the happy earrings are a celebration to spring, joy and liberty that I imagined after the crisis...
delicate and timeless designs
delicate and timeless designs